The team behind Bowl'D Up food truck will serve Vietnamese street food to Finn Hall visitors as Sit Lo, a concept that focuses on home-made Vietnamese fare with fresh local ingredients. Siblings Jay Le, Adrienne Le, and Jeff Jacobson, instilled with a tremendous admiration for the delicious Southern Vietnamese cuisine they grew up eating, can't wait to share their families recipes with the diners at Finn Hall.
Pho Bo
Oxtail Soup with sliced beef tenderloin, brisket, rice noodles, onions, scallions, bean sprouts, cilantro, basil, mint, lime wedge.
Bo Luc Lac
Cubed filet sautéed with onion, bell pepper, garlic, served with rice, and black pepper lime dipping sauce.
Banh Mi Thit Nuong
French Baguette with grilled pork shoulder marinated in lemongrass and spices, cilantro, pickled carrots/daikon, fresh jalapeno, cucumber, Vietnamese mayo
Bun Thit Nuong Cha Gio
Marinated Pork, Imperial rolls, vermicelli, shredded lettuce, bean sprouts, cucumber, pickled daikon/carrots, roasted peanuts, served chilled with fish sauce vinaigrette.
Imperial Rolls
Crispy Rolls filled with pork, shrimp, crab meat, carrots and onion. Served with lettuce pickled carrots/daikon and side of fish sauce vinaigrette.
Bun Thit Nuong Cha Gio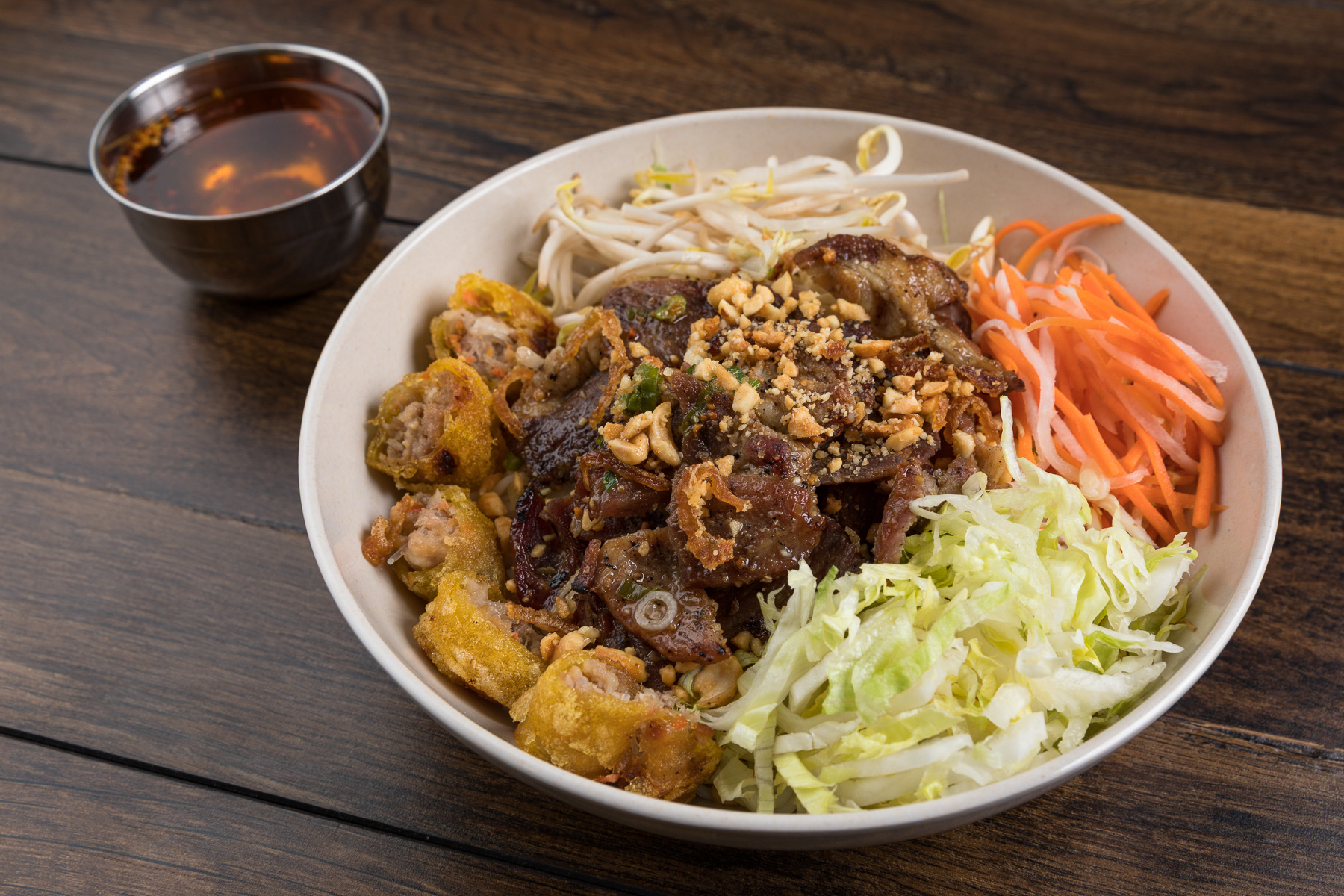 Fresh Spring Rolls
Banh Mi Thit Nuong
Pho Bo
Com Ga Nuong
Grilled Chicken Rice Plate
Locations
712 Main St
Houston, TX 77002
Sugar Land (Coming Soon)
Hours
Sun – Thu, 11 am – 9 pm
Fri – Sat, 11 am – 10 pm
Contact